Why order on my.totalenergies.lu?
Available in 3 languages (Luxembourgish, French, German), with my.totalenergies.lu, you can order your heating oil or TotalEnergies Pellets Premium bags for delivery in Luxembourg at any time. Simply choose the delivery date and time slot that suits you. We offer several payment solutions including secure online payment with our partner BGL BNP Paribas.
Qualitative products:
Mazout Ultra from TotalEnergies, a complete and exclusive formula. Enriched with exclusive additives developed by the TotalEnergies Research Center. Mazout Ultra from TotalEnergies is a superior quality fuel oil that durably protects the essential components of your boiler (nozzles, filters, etc.). TotalEnergies fuel oils are constantly analyzed. You can therefore be sure of a flawless product.
Carbon offsetting:
TotalEnergies Marketing Luxembourg offers you the possibility of offsetting the CO2 emissions linked to your fuel oil consumption. We offer you the opportunity to participate financially in the KARIBA REDD+ project, which notably fights against deforestation in Zimbabwe. Thanks to the project, 196 million tons of CO2 equivalent will be avoided for 30 years.
Loyalty rewarded:
Each time you order fuel oil, you accumulate points that allow you to receive €20 discount vouchers.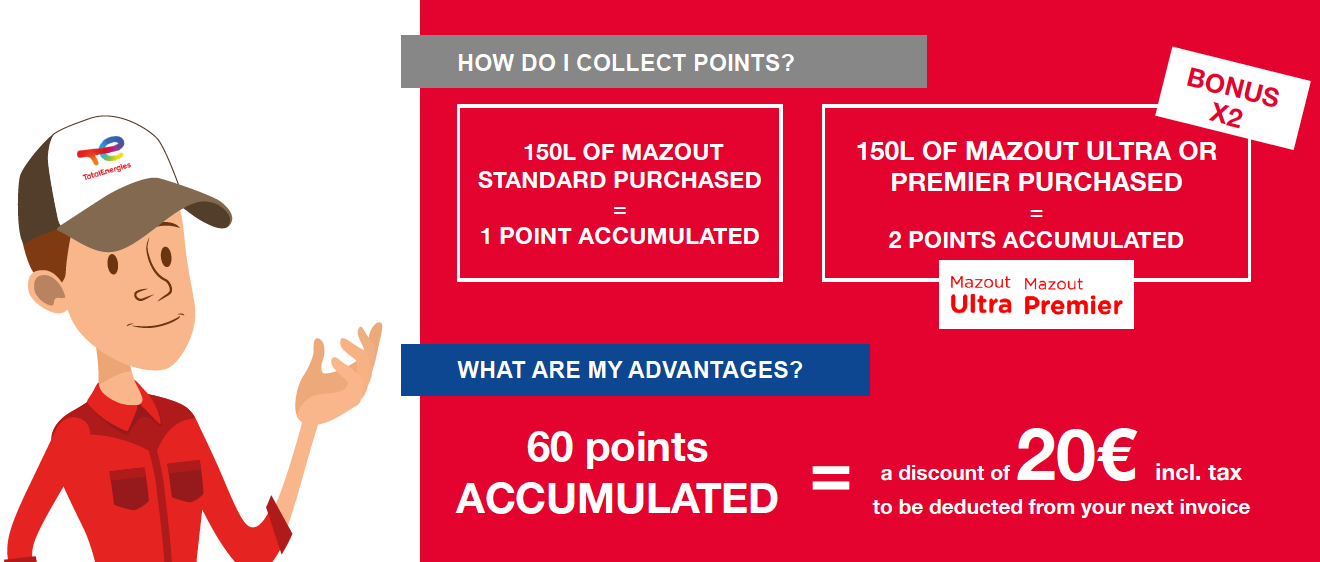 Payment facility and security:
Depending on the type of purchases you make on my.totaenergies.lu, you will have the possibility to pay either directly online with Visa/Mastercard, or to pay upon receipt of the invoice by bank transfer, or to pay upon delivery.
Customer area:
From your customer area, find all your information, the history of all your orders and a follow-up of your fuel oil consumption. If you take advantage of the Easytank service, you can also consult the level of your tank from any computer or smartphone.
Fuel oil price alert:
By registering for this free service, you will receive an e-mail notification as soon as oil prices rise or fall.